Getting to know:
John Butcher
| | |
| --- | --- |
| | John joined the VFW in September of 2018 while visiting his daughter, Tracy, who is also a Post 1503 member. During the trip, John met our former post Commander, Tom Williams, and learned that his service in Vietnam meant that he was eligible to join. John signed up as a Life Member that day and has been involved since. You can see John volunteering at bingo, representing the post in the Dale City Parade, or "talking story" with other members in the canteen. |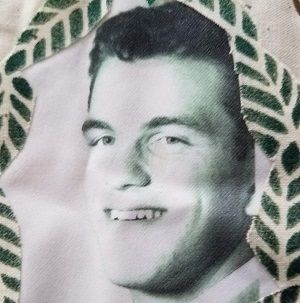 John was born in Honolulu on the Hawaiian island of Oahu. His family lived in Kahili and he enjoyed island life. John loved spending time outdoors and you could find him swimming, surfing, and snorkeling. He attended Farrington High School in Honolulu and loved playing on their football team. During his junior year, his family moved to California. Although he missed Oahu, he found many friends while playing on the William C. Overfelt varsity football team and wrestling. The Overfelt football team even won the state championship during his senior year.
It was a tumultuous time in American history during John's high school years. He remembers the eerie silence that filled the hallways of his school when they learned of President John F. Kennedy's assassination. These years also saw major civil rights protests, Beatlemania, and preparations for what would become the first moon landing a few years later. Several international conflicts, especially those in Vietnam, were also in the nightly news broadcasts.
After John's high school graduation in June of 1964, the Vietnam War was approaching a decade of continually-escalating conflict. He decided to join the Navy prior to the draft just a month after his senior year. He completed boot camp and then continued his initial training in San Diego. During that time, John was asked if he would like to be a hospital corpsman. Although he did not realize it when he agreed to take the position, this meant he would be part of the Marine Corps. He was sent to his first duty station at the Kaneohe Marine Corps Base Hawaii on Oahu. He continued his military training until the 3rd Marine Division, 2nd Battalion was called to Vietnam. In Quang Tri, South Vietnam, John was known as "Doc" as he worked tirelessly to rescue and treat those who needed his help during his missions. He also accompanied wounded Marines in helicopters when it was required. When his first year of the deployment was completed, John volunteered for a second year-long tour, but sustained an unfortunate shoulder injury while lifting a Marine who required medical care. After 18 months in Vietnam, John returned to Kaneohe where he completed his time in the military as part of the Reserve.
After his honorable discharge from the military, John started traveling. He grew out his hair and hitchhiked his way to Yellowstone National Park. There, he briefly worked as a dishwasher until being quickly promoted to a bar stocker. Eventually, he found himself working at the Yellowstone stables during the day and bartending nights and weekends. He remembers this time fondly, especially since he was able to meet people from all over the country.
John's medical training helped to save lives even after his military years. One night, a woman came into the bar at Yellowstone after sustaining severe burns from a propane leak explosion. John knew what to do right away, treating the burns with wet towels and calling for the park ranger and nurse. They were able to tend to her until she could be transported to the closest hospital 60 miles away, saving her life. Another time, John passed by an underground construction crew in Carson City, Nevada. The asphalt collapsed, trapping one of the crew members below the road. John quickly climbed down the ladder, rendered first aid, and brought the man to safety.
When his time in Yellowstone was complete, John continued to travel, moving to Hawaii for several years before relocating to California. His family grew and he had four children. In October of 1971, John took the exam to be a California deputy on a lark. Although he was surprised when he was accepted, John entered the academy and devoted himself to the law enforcement profession for over three decades. He started his career with six months on patrol with a training officer. After that, he moved to the jail division for their four-year rotation cycle, moving through the main jail, branch jail, hospital, and finally the airport.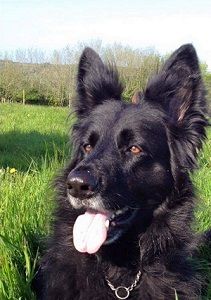 Beginning in 1979, John started his work with the K-9 unit. His first dog was Sam, a German Shepherd. Sam was an excellent canine partner, even wiggling his way out of the top window in a Volkswagen van when he felt John needed backup on a stop. Unfortunately, Sam was killed just over two years later when he was struck by a vehicle. John worked another four-year rotation in the jail system before returning to the K-9 unit with a black German Shepherd, Jake. For the next six years, Jake was an excellent partner and he helped in assisting with many arrests—often without further incident when the suspects saw Jake by John's side. John's years as an officer allowed him to help people make better decisions for the future. He said, "Every action has a consequence: some are good, some are bad. Whatever your decision is, you have to live with the consequences." While not everyone heeded this wisdom, John made sure his community was a safer place to be. He finished his time with the sheriff's office as a dog trainer.
Once John retired from the force after 32 years of service, he became a licensed merchant mariner. He became the captain of the Pacific Responder, an oil spill response vessel (OSRV), in San Francisco. Putting his mariner training to further use, he returned to Hawaii in 2005 where he became an assistant port captain. Finally, he returned to California to work with Foss Maritime in the San Francisco Bay.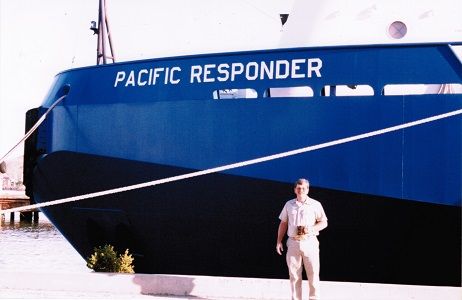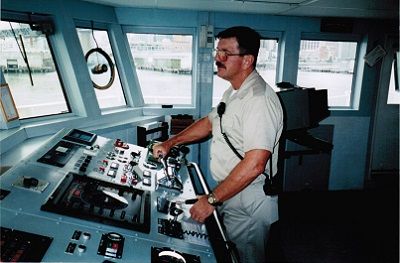 John then moved to Idaho where he started a business centered around dogs, including training, boarding, daycare, and grooming. While they spent several happy years there, his wife, Gerry, became ill and died. After he was encouraged by his daughter, Tracy, and daughter-in-law, Robin, John made the decision to relocate to Virginia to stay. He sold everything from his business, packed up his dogs, and made the five-day trip to Woodbridge. John still visits his other children in Hawaii and California and hopes to travel more in retirement.
If you wanted to find John as a child, chances are you should head to the beach to find him in his flip flops, enjoying the Hawaiian waves. He grew up eating mahi mahi (a white fish), opihi (a type of shellfish), and fresh mangos.
John wasn't so excited about the academic subjects in high school, instead finding himself distracted by the wahine (girls) in his class. However, when he later started his medical and law enforcement training, he discovered a newfound love of learning and excelled in his studies.
Although John had a successful career with the sheriff's office, his first day on the job didn't go as smoothly as he hoped. During a bar fight, a drunk man split his lip and broke his teeth. The man was quickly arrested and was much more remorseful when he sobered up.
Several of California's most prolific serial killers were housed in the jails during John's time as an officer, including the infamous Vampire of Sacramento.
When John first started working with his K-9 partner, Sam, he had to learn how to get on his good side. Shortly after bringing Sam home, John had to go to work. When John returned, Sam hadn't bonded enough with him yet to trust him and almost didn't want to let John in his own home!