Getting to know: Lionel Ward
| | |
| --- | --- |
| | Lionel is a long-time member of the VFW. He started by signing up for a life membership at another post around 1993, but we can thank Jim Cech—or "Diamond Jim" as he is known in the business—for inviting Lionel to Post 1503. He is part of the post's Entertainment Committee, dedicated to bringing us the best shows and entertainment. You can also see Lionel hosting shows at the post, welcoming bingo players on Tuesday and Thursday nights, and sometimes even playing a song or two during the bingo halftime break. With his signature gold sunglasses, rings, bright Hawaiian shirts, and a smile to light up the room—you can't miss him! |
Raised in rural upstate New York, Lionel grew up on small farms with his mother and brother. These humble beginnings allowed Lionel to learn everything about farm life, including what it really looks like when a chicken runs around with its head cut off! Lionel's aunt played the piano, enjoying gospel and folk songs. Lionel was drawn to the music and soon learned he could make his own. He cherishes a photo of himself at nine years old, holding a guitar.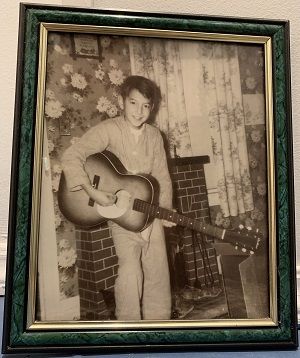 He still has this guitar today, with his name emblazoned on the front in decal lettering. Much later, he would upgrade to his current favorite guitar: a Gibson J200 with a mother-of-pearl name inlay. He says that part of him has always liked to be a little bit flashy—just like Elvis.
Eventually, his love of music would lead to a career. Lionel shares that the music business has never really felt like work, since it's been such an integral part of his life. Music is a transcendent experience for him. Lionel explains by saying, "I am the song; I become the song." He is a bit of a vocal chameleon, able to pay tribute to some of the greatest singers through his music. This has led to an international career with fans all around the world, including star-studded shows at events like Germany's famed Oktoberfest.
Lionel has a zest for life and his optimistic joy often rubs off on those around him, especially when he shares his gift of music with others. He compares our lives to Hollywood: we get to be the star every morning that we wake up, which means we get to choose to be a good person—or not. Lionel provides some wonderful words to live by: "You should always be nice to people. Do the best you can do and don't be a jerk!" Lionel also reminds us that we have two hands: one represents reality and the other our dreams. If we work to put those hands together, it will result in a beautiful life.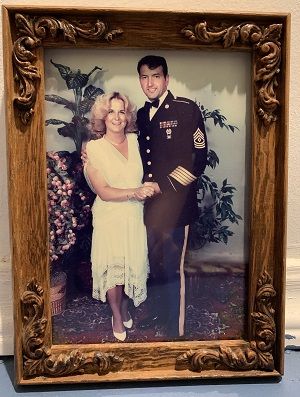 With Lionel's busy musical adventures, you might wonder how he had time to be a career military man. However, Lionel said he's "lived two separate lives" between the military and the entertainment business. Lionel joined the United States Army in 1971 when he was 17 years old. (After getting into some boyish trouble, he decided to choose the military over reform school!) After completing AIT, he was sent to South Korea where his unit patrolled the DMZ. Here, he learned about the unbreakable trust known by countless veterans, truly depending on those who are by your side. As he rose in the ranks, Lionel became an NCO and supported his troops as a leader. At the age of 24, he was one of the youngest E-7s in the Army. Lionel was featured in the Stars and Stripes on several occasions—sometimes for the military and sometimes for his performances. 1SG Lionel Ward retired in 1992 and moved to Virginia to continue with his music career.
Music also brought Lionel to the great love of his life: Barbi. However, their incredible romance didn't always start out that way. Lionel asked Barbi to dance with him as he sang during a performance at one of his shows in Oklahoma in August of 1981. However, Barbi was there after her shift at Goodyear with her coworkers and was quite upset with his suggestion. It took many more shows before Lionel would see her again, but when he did, he told her how much she had upset him and then walked away from her. Although neither of them wanted anything to do with the other, he had to return to the spot where she stood in order to pick up his paycheck. This led to a fateful conversation about Elvis. Barbi revealed that she already owned some of the backordered Elvis albums that Lionel needed to develop a musical melody for his show. Barbi let Lionel borrow her records. Still shaken by their previous encounter, Lionel planned to simply leave the albums at the club so Barbi could retrieve them. Instead, he decided to return them to her in person. They sat on her loveseat and talked for hours. Lionel wasn't sure what to do about his feelings for her, but his mother assured him that he would know when he was in love. Lionel and Barbi married in Copenhagen, Denmark, on April 5, 1982. Barbi dove into the music business with Lionel. As she was a very business-savvy individual, she took over his management and made sure that everyone treated him with the professional respect he deserved. Lionel proudly insists, "My success is because of her!" They shared three children together and traveled around the world to bring music and entertainment to all.
Barbi received a cancer diagnosis in 2008 and went through many years of treatment. Lionel devoted himself to her care, going to hospital visits and administering further treatment at home. He even brought his jumpsuit and guitar along to cheer up other patients at the hospital when they traveled for her chemotherapy treatments. Although it was over a decade from the time of her first diagnosis, Lionel shares, "Cancer did not define her." She kept her vivacious spirit and warm personality throughout her battle. Her memorial card states, "And even on her toughest days, she laughed, smiled, and shared her love and humor." On June 22, 2020, Barbi went to sleep for the final time. The celebration of Barbi's life continues at the Annual Breast Cancer Foundation Concert Benefit, including a performance this summer at Post 1503.
Lionel purchases his jumpsuits from the same company in Indiana responsible for making Elvis's iconic wardrobe. They take about a year to produce, as they are all created by hand. While Lionel doesn't have a pair of blue suede shoes, he does have some snazzy blue suede boots!
When he first started in the music business, Lionel wasn't entirely sold on the idea of being in an Elvis tribute band. However, the entertainment was about the fans, so he devoted himself to developing a unique spin on Elvis, and the rest is history.
Lionel's Brigade Commander once pulled him out of the field in the middle of an exercise. The date of a military ball had changed and they needed him to put on a show!
Lionel has a beautiful black chow chow named Lorenzo. The seven-year-old Lorenzo isn't afraid to demand a particular place to sit when he wants to make himself comfortable, including on a boat. He even has his own room with a full bed at home.
For their 35th anniversary, Lionel surprised Barbi with a secret vow renewal ceremony at a church in Garmisch, Germany. He even brought her wedding dress and tucked it away in his jumpsuit case so she wouldn't know.
The loveseat where Lionel and Barbi talked for hours and fell in love is still kept poolside at their home. Although it has been reconditioned many times, it still looks as cozy as it did all those years ago.
Lionel appreciates that you can depend on those who have served. When a veteran says he or she will be there, you can count on that promise—no excuses or expectations.